Introducing Holly Feniak
Wed, 6 June 2012
Author: Matthew Whitmore
I'd like to share with you Holly Feniak, Cove Team rider. Holly chooses to ride Elka Suspension and was recently interviewed on the worlds largest bike community website 'Pink Bike'. At age 16 this young gun has one almost every national round in Canada and inspires to be number 1 world wide.
Holly Feniak - So hot right now!

Holly Feniak is on fire. Not literally of course, but the 16 year old downhill racer from the Sunshine Coast of BC has moved into the pro ranks and is starting to make herself known. I want to say that she's an up and coming racer because so few people have probably actually heard of her, but I think that would be misleading as she's already one of the fastest women racers in North America. As a junior last year she won most of the races that she entered, but what really made me notice her was the fact that last year her winning time at the Sunshine Coaster race was the fastest women's time overall, and then at the Western Open she had the fastest women's time overall by 37 seconds.

So far in her first season as a pro she's placed 1st, 2nd, and 3rd in the Northwest Cup races, and she finished 5th in the Sea Otter DH. She also managed to win the Sunshine Coaster again this year, beating out well known Canadian downhiller Micayla Gatto by almost 5 seconds. Her time at that race was less than 14 seconds off the Elite Men's win, and would have placed her 4th in the 17-18 male category. Not bad at all for a 16 year old girl. I've spent a bit of time shooting and hanging out with Holly in the past few months, read on to find out a little bit more about her.

The Basics

How long have you been riding? Since I was 3 years old.
How long have you been racing? 3 full seasons, this being my fourth.
Best result? They have all been good!
Career highlight? Right here, right now, all summer long!
Holly's first big pro race this year was the Sea Otter Classic DH. Fifth place, and her first real pro podium.
The Details
So you race mountain bikes, how did it start?

Boys. Really cute boys...then somewhere along the line I started riding for me (falling in love with DH didn't take me long). I also love the outdoors, I love to travel and meet new people, and my family have always been bad ass mountain bikers; which inevitably, rubbed off on me. Kidding, but actually, I love people, and the fact that I could be surrounded by people who all share a mutual love for such a unique, new and exciting sport was absolutely irresistible to me.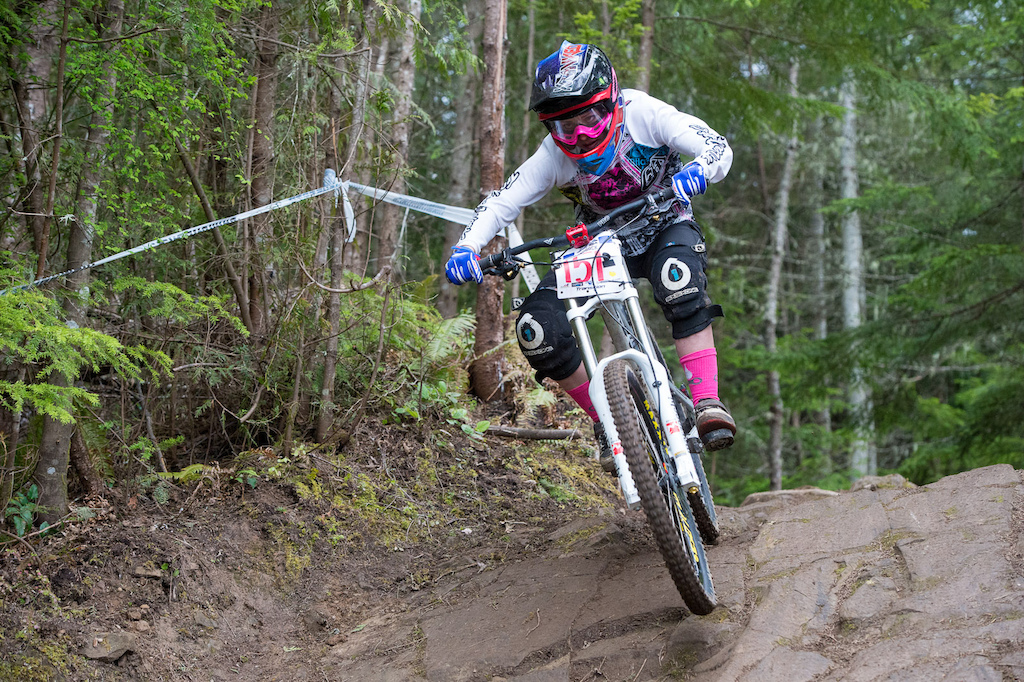 Why do you race?
There is no other sport that at this point in my life that I want to do more, and I have a fiery desire to make it as a professional athlete. After I earn a rainbow jersey, I plan on taking that party straight to the Olympics.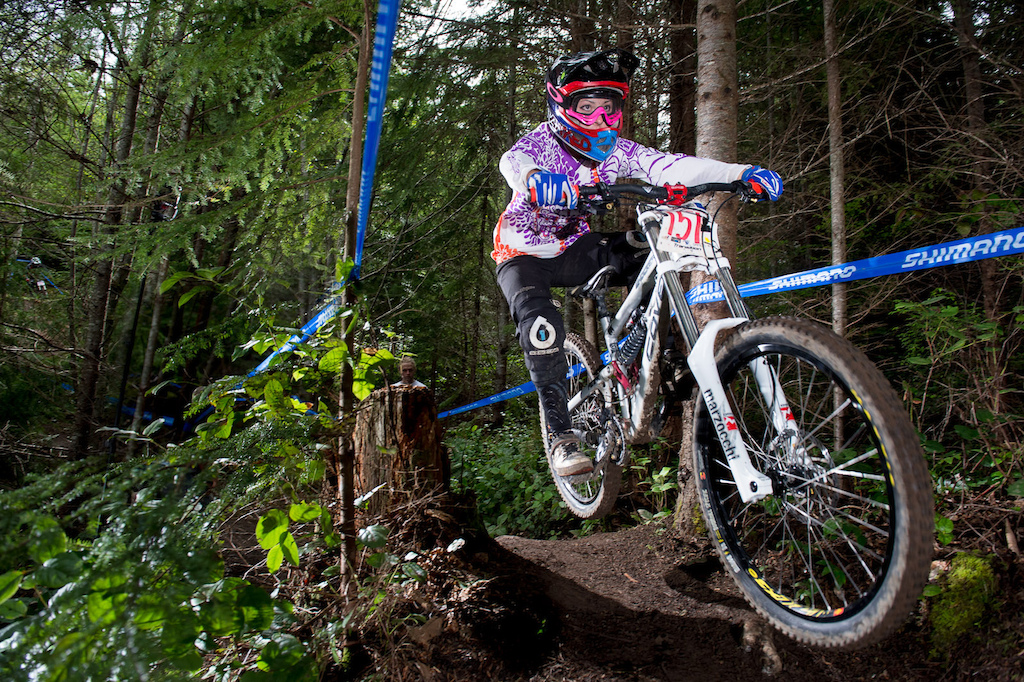 What made you choose DH instead of XC?
XC is punishment, DH is play. Kidding, once again. XC is actually a wonderful thing, and I enjoy XC races very much. But I have never felt an adrenaline rush even close to the ones I experience the ENTIRE ride, while shredding DH. Maybe there isn't a ton of money to be earned in racing the DH discipline right now, but it's what makes me truly happy, and I know that soon downhill will shock the world and receive the audience it deserves! XC will always be on my agenda, and maybe in the near future I will hit up a few big XC races...see where I stand.

What is your favorite place to ride?
There are so many incredible riding adventures to be had for me, but so far, nothing has topped the perfect combination of loam, rocks, steeps, roots, and hero dirt of home.

Are you inspired by any pro women DH racers, which ones?
Yes! Definitely. Honestly, they ALL inspire me. But so far, one that has really stood out to me is Mellisa Buhl. I have only met her once, and really don't know too much about her, other than she wears pretty make up, is really sweet and is dangerously fast. I had a quick conversation with her after Sea Otter and she told me that throughout her amazingly successful racing career she had been going to med school. WHAT!? I was blown away and filled with inspiration when she shared with me that she is a soon going to be a doctor, all while having a whole other career as a pro athlete MTB'er. This confirms that my many dreams can be achieved, and I don't have to just choose one, anything is possible. Girl Power.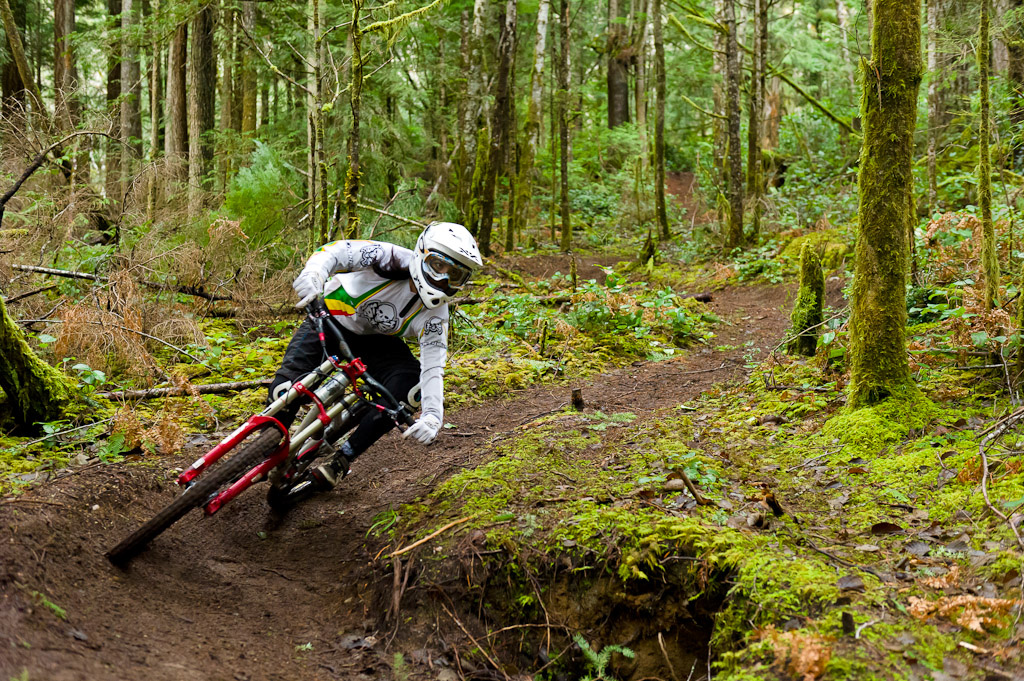 How does it feel as a woman in a sport that's predominantly male?
Awesome! I never have to worry about girls all over my boy! But I can't wait until the numbers balance out a little more. Downhill mountain biking is extremely powerful in the way of inspiring women. I've seen it, and I've felt it. Once exposed a little more, mountain biking will ignite the ambition in many women to get up, push their limits, and go beyond their comfort zones to realize their strength and potential as an athlete, and most importantly as a person.

Do you do any other sports? Cross training?
I have been dancing since I was 7, and dance still holds a very special place in my heart. After the race season, I get right back into it for most of the winter. Ballet, contemporary, modern, jazz, hip hop; you name it, I'll dance it! I also love yoga, and practice it most days. I live right on the water so kayaking is right up my ally! Behind my house in the lush green forest there is a never ending series of hiking trails, that I love to run on. I used to be a little soccer superstar, and still love to kick the ball around when ever I get the chance. I think if it wasn't mountain bike racing, it would have been soccer. I love to snowboard, skiing is fun too, I am just a green run kind of gal when it comes to the skis though, haha. At some point, I want to get right into surfing. Heck, I love it all and I'm going to do it all-and GoPro it all too!

More Personal Stuff
Girly or Tomboy?
GIRLY!!

Dresses or Jeans?
BOTH!

Favorite riding clothes?
TLD

Tea or Coffee?
Tea.

Makeup?
Absafreakingloutley. But only the natural and organic kind where they don't exploit animals.
Pink or Black?
Oooooooooooo. They both look really hot.

In 5 years…?
Legal in the US...
To see the original interview you can head over to; http://www.pinkbike.com/news/Women-Who-Ride-Holly-Feniak.html
-matt.